We are currently working on updating the site, please be patient!
Thanks!
**INTAKE HOLD AS OF FEBURARY 24 2017**
SNARR is not currently accepting any new animals. We have four dogs currently in our care searching for fosters still and we cannot continue to accept more animals at this time.
Please do not message us asking us to take more dogs or cats unless you, yourself, are willing to foster and HAVE COMPLETED OUR FOSTER APPLICATION.
Our emails and voicemail are full of requests and we cannot take anymore animals at this time. It is not responsible, both financially and in terms of the animals, to continue to take new cases. The animals in our care deserve nothing but the best we can give them. Please do not continue to call or email us about taking new animals. The answer is no, no matter how desperate the situation, unless you are willing to foster.
We are also no longer able to accept paralyzed animals, indefinitely. Our fosters who are capable of caring for these difficult cases are full. We expect them to remain full as paralyzed animals are incredibly difficult to find adoptive homes for.
That said, rescue takes a village. If you would like to assist us in our mission, we would love to have more fosters, more volunteers, more people sharing our adoptable dogs. If you can help financially, that would be amazing as well.
Thank you for understanding!
-The SNARR Team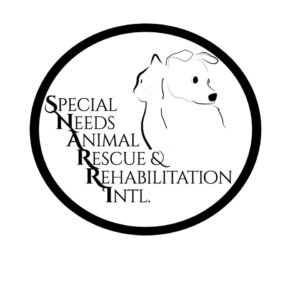 We could not do this without all of you
We would like to take this opportunity to recognize some of our amazing supporters.
Every day, we see precious little lives, so full of need, so helpless, so bereft of hope, and we cannot turn away.
So we turn to you.
We show you their pictures and tell you their stories, and you never let us down. Your kindness and compassion make it all possible. Because of you, soft sad eyes light up with hope — hope for healing and restoration, for food and shelter and warmth and love. You are with us when we reach down to stroke a frightened furry head; when we run our hand down a too-thin side and count the ribs. You've held your breath in the night with us, waiting to see if a new arrival would continue to draw theirs. You rejoice with us while they gradually come into their own, and even more so when they find their perfect match, their forever home.
We could not do this without your generosity. Thank you doesn't seem like enough to say for all that you do, but we greatly appreciate every one of you.
Again, thank you!